Leading Towards a Sustainable Ship Recycling &
Greener

Future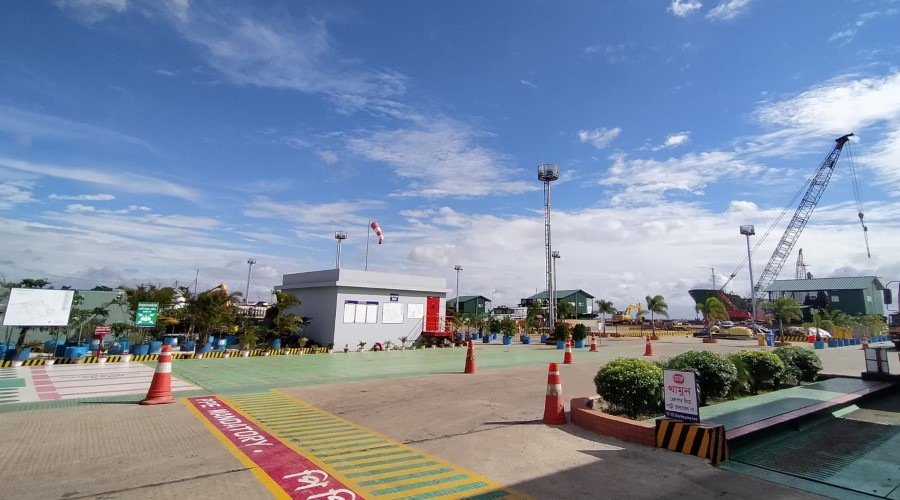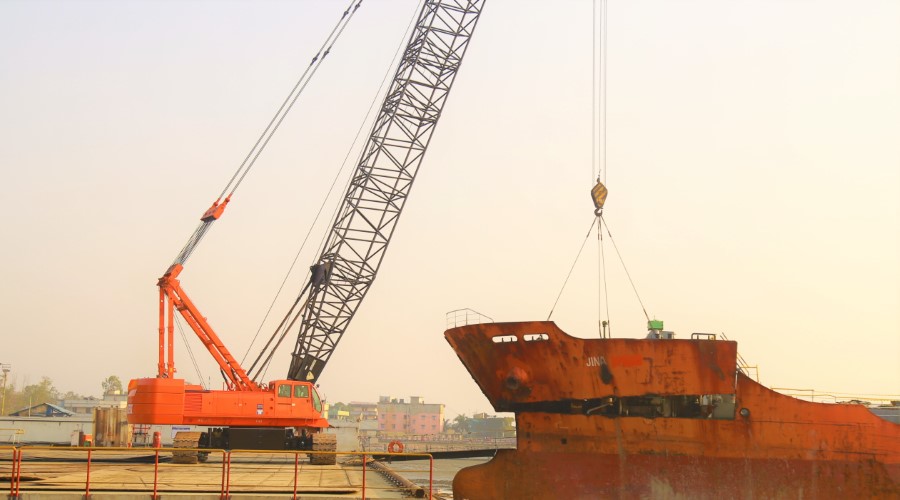 Revolutionizing ship
recycling in
Bangladesh
Founded in 2013 by visionary Md. Taslim Uddin, KR Ship Recycling Yard is a pioneer in Bangladesh's ship recycling industry. We are leading in responsible ship-breaking among other yards, recognized as a Green Ship Recycling Yard approved by Class NK of Japan and Bureau Veritas. Known for our sustainable practices, we prioritize human and environmental well-being.
10

YEARS OF

EXPERIENCE

Under the visionary leadership of Md. Taslim Uddin, KR Ship Recycling Yard is at the forefront of transforming ship breaking into a sustainable industry in Bangladesh. By prioritizing green practices that minimize health hazards and environmental risks, we set a powerful example of responsible ship recycling, guiding the industry toward a safer and more eco-conscious future.
Environment Management
We're fully dedicated to eco-friendly ship recycling, compliance with international regulations (EIA), safe and secure facilities, pollution prevention, reporting, and environmental certification, such as ISO 14001, stakeholder involvement, and continuous improvement. We track air and water quality, noise levels, and other environmental factors to ensure our operations do not harm the surrounding ecosystem.
Health and Safety
Health and safety commitment is a fundamental aspect of any organization's operation, reflecting its dedication to the well-being of its employees, customers, and the community. At KR Ship Recycling Yard, we prioritize the safety and health of all individuals associated with our business. Our commitment to health and safety is unwavering and extends across all levels of our organization.
Hazardous Waste Management
Hazardous waste management is crucial for protecting the environment and human health. It involves identifying, safely handling, transporting, treating, and disposing of dangerous materials. International agreements like the Basel Convention and Hong Kong International Convention, along with national regulations, PIC, and EIA, guide this practice. By following these principles and regulations, we can reduce the hazards of hazardous waste and promote a safer, more sustainable world.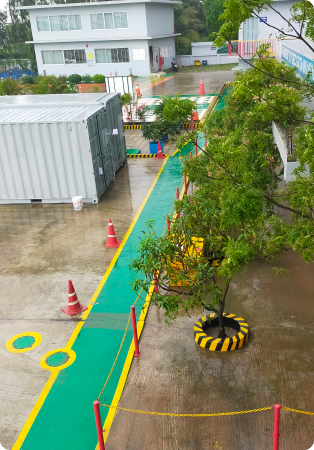 Greener

Future
A greener future that emphasizes the need to protect and preserve the environment for future generations.
Prioritize material recycling for reuse rather than disposal.
Efforts to minimize air, water, and soil pollution are essential for a greener future.
Upgrade equipment and machinery to energy-efficient models to reduce energy consumption.
Rainwater harvesting.
Efficient wastewater treatment system to minimize water pollution.
Commitment to
Welfare
Strong community welfare in the ship recycling industry.
Prioritizing safety with comprehensive training and top-notch protective gear.
Provide on-site healthcare services and support for mental well-being.
Our commitment to welfare is not just a checkbox but a core value of responsible and sustainable ship recycling.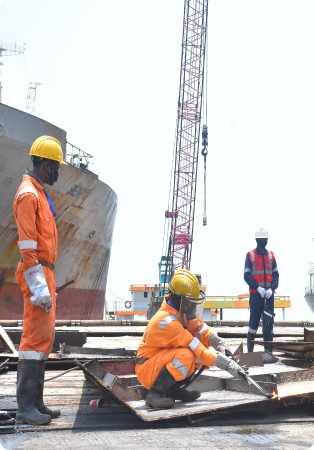 Sustainable

Progress
The facility's 3 acres of impermeable floor space help prevent soil contamination.
With a robust annual capacity of 120,000 MT, the facility can efficiently dismantle ships.
The Oily water separator unit, boasting a 131,600-liter tank capacity, plays a pivotal role in treating wastewater.
The Asbestos decontamination unit with a capacity of 5000 NPU, ensures that asbestos handled safely and disposed of responsibly.
The facility's expertise in hazardous materials management reflects a commitment to worker safety and environmental protection.
The advanced fire hydrant system, with a pump capacity of 750 GPM reducing the risk of large-scale fires.
Our Mission
"At KR Ship Recycling Yard, our mission is to revolutionize the ship recycling industry by leading the way in environmentally responsible practices, providing safe and sustainable ship dismantling services while minimizing harm to the environment, ensuring the safety and well-being of our workforce."
Our Vision
"Our vision for KR Ship Recycling Yard is to be the global leader in green ship recycling, where ships are dismantled with the utmost care for the environment and worker safety."