Ship
Recycling
KR Ship Recycling Yard
Leading Towards a Sustainable recycling & greener future
ISO 30000:2009
ISO 9001:2015
ISO 45001:2018
Class NK Certified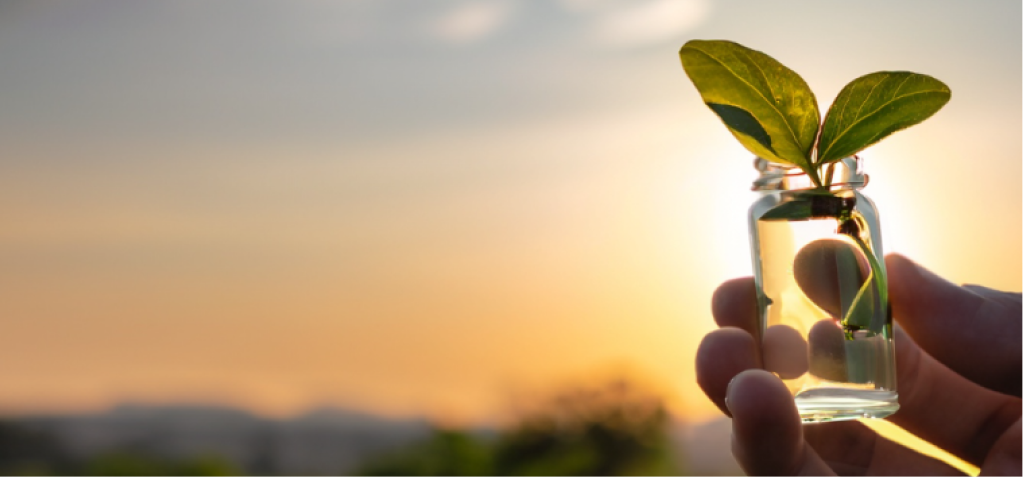 Environment
Management
- Drinking Water Sample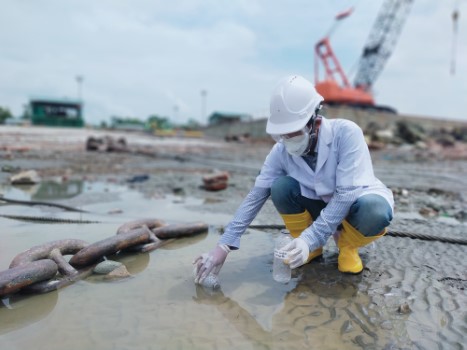 - Inter-tidal Zone Water Sample
- Sound level Monitoring
- Inter-tidal Zone Soil sample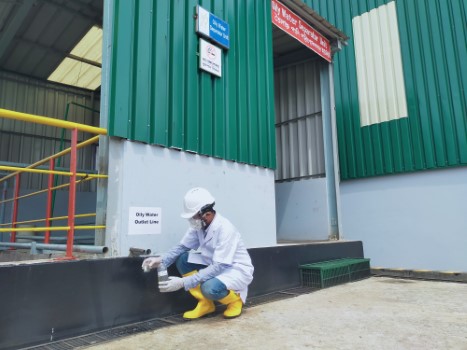 - Oily Water Separetor Outlet Sample
- Lux level Monitoring
Sampling
Our Environment Management System is certified by IR Class for ISO 14001:2015 We conduct periodic sampling test for the following elements:
Inter-tidal zone soil sampling test
Inter-tidal zone sediment sampling test
Ambient Air sampling test
Stack Emission test of diesel engine
Oily Water outlet sampling test
- Block Lifting
- Oil _ Chemical Spill Drill
- Slag Catcher
Impact Reduce
Continuously conduct Environmental Impact Assessments (EIAs) to assess and monitor the environmental effects of ship recycling activities, identifying areas for improvement.
Adopt environmentally friendly ship recycling methods, such as environmentally sound cutting and slag catching techniques that minimize the release of pollutants.
Use noise-reducing measures and vibration isolation by crane block lifting techniques to minimize the impact of shipbreaking activities on local communities.
Well established Rain water collection system for fire water reservoir & other cleaning activities.
Develop and implement Emergency Preparedness Response Plan (EPRP) Chemical & Oil spills, to mitigate environmental damage.
Health

&

Safety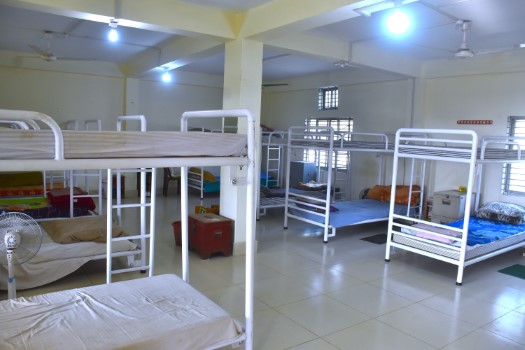 - Accommodation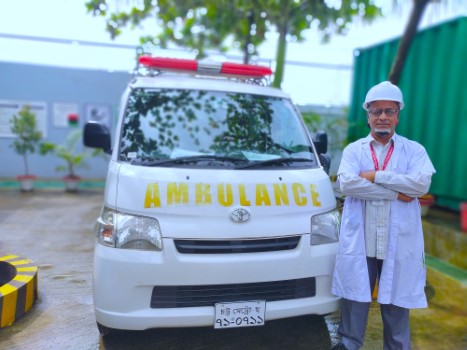 - Ambulance
- Change Gear Room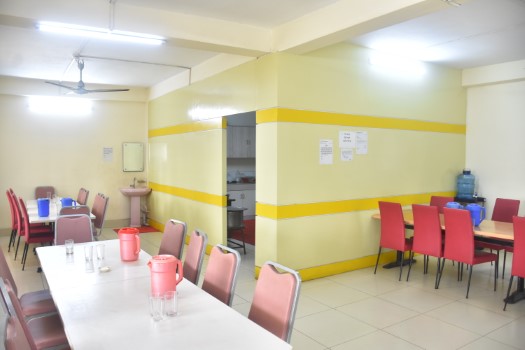 - Dining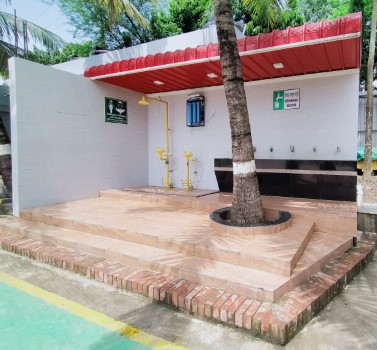 - Drinking Water
- Emergency Eye Wash
- First Aid Room
- First Aid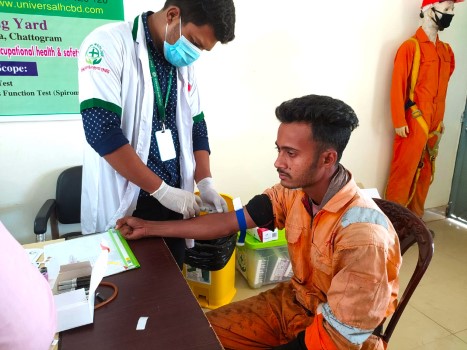 - Medical Checkup
- Recreation Room
Health
Our Occupational Health & Safety Management System is certified by IR Class for ISO 45001:2018
Periodical Health checkup for the workers at regular intervals i.e. at the time of joining and every one year.
Special checkup for job specific Hazmat Handler team.
Well-equipped First Aid Center, dedicated Ambulance & Paramedics for 24/7.
Emergency Eye wash & Shower point with filtered water.
Fresh Drinking water with RO filter 100 litter per hour capacity.
300+ personal cabinet for each worker for their tools & gear security with a rest room.
Well maintained Dormitory for staffs with beautiful recreational facility.
- Fire Mock Drill - 1
- Fire Mock Drill - 2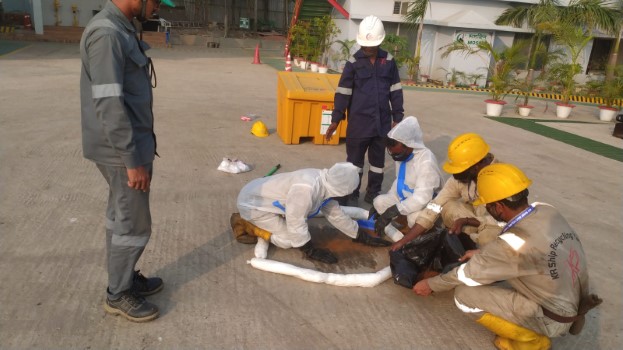 - Mock Drill(Oil Spill)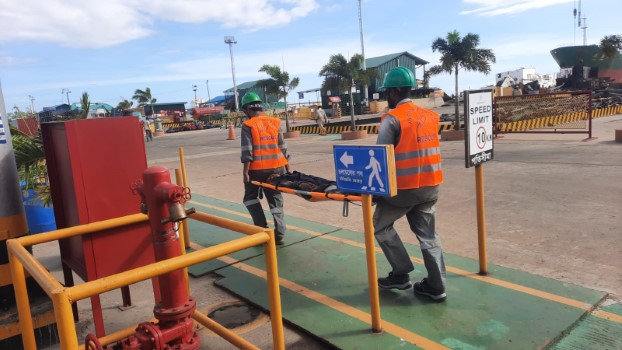 - Mock Drill(Rescue)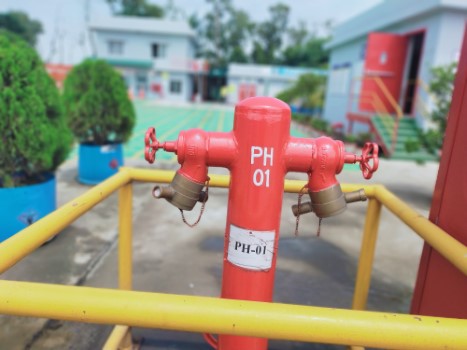 - Pillar Hydrant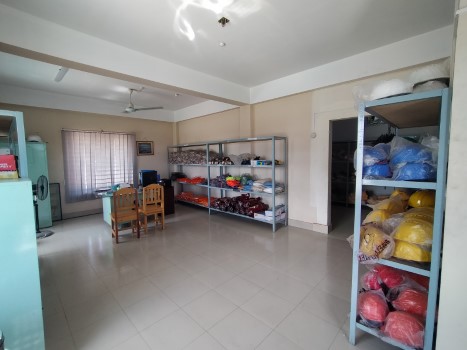 - PPE
- Toolbox
- Training
- Walkway
Safety
Emergency Preparedness & Response Plan for all kind of emergency situations involving key personnel.
Regular Mock-drills carried out according to annual mock drill plan for real-time emergencies attempt.
Well-established PPE Management system for ensuring & tracking PPE with involving HSE personnel as per PPE matrix.
Huge sets of Fire Fighting System with Hydraulically calculated pipeline & remarkable Pillar Hydrant, Hoses & Fire Extinguishers.
According to training matrix, we conduct external & in-house training.
Whole yard covered with dedicated walkway for visitors and workers safely moving.
Hazardous Waste
Management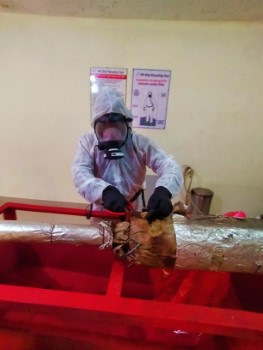 - Asbestos Remove
- Asbestos Removing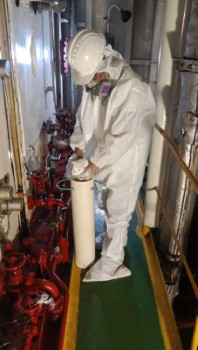 - Asbestos solidefied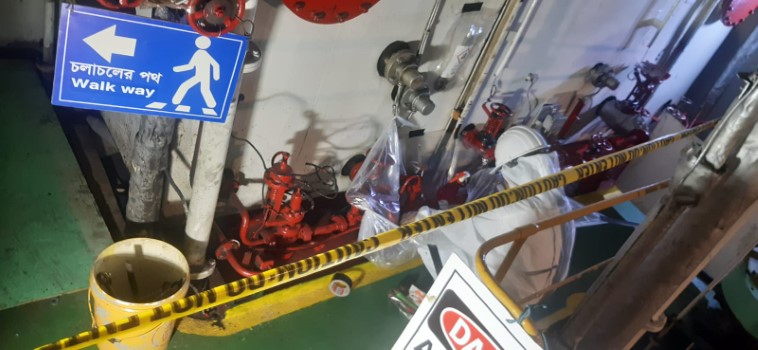 - Asbestos
- Hazmat Expert
- Oily Block Wash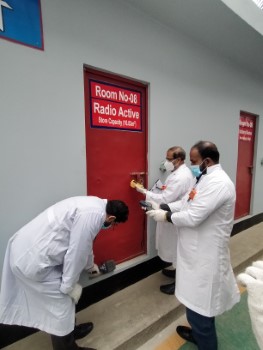 - Radio Active Material
- Waste Bin Management
Steps
Hazardous waste management at ship recycling yards is a complex and highly regulated process. Ensuring proper management is essential to protect the environment, worker safety, and the reputation of the ship recycling facility. Here are some key considerations for hazardous waste management at ship recycling yard:
Engaged Class approved highly qualified Hazmat Expert for sampling & marking of hazardous materials on vessel.
As per foreign laboratory test report of IHM classify & segregate waste into categories such as asbestos-containing materials, hazardous chemicals, and heavy metals, ODS, PCB etc.
A strong competent team for collecting & storage of Hazardous Waste directly supervised by HSE team.
Well-established downstream waste management with MSDS and tracking system for storage of waste.
MOU with more than twenty Govt. approved vendors for collecting & disposal of hazardous waste.
EU standard Asbestos Decontamination Unit (5000 NPU) for ACM handling at yard & a portable setup for ship.
Skill

Development
- Fire Safety Training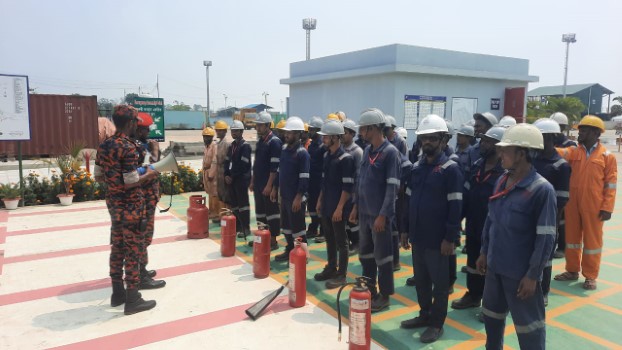 - On Site Training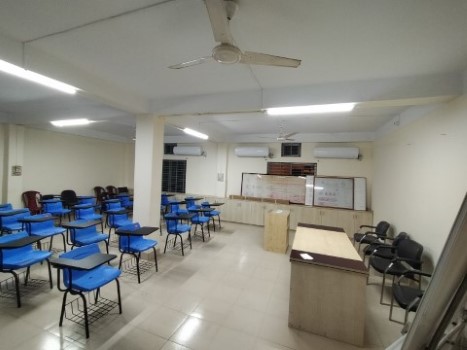 - Training Room
- Heavy Equipment Operation Training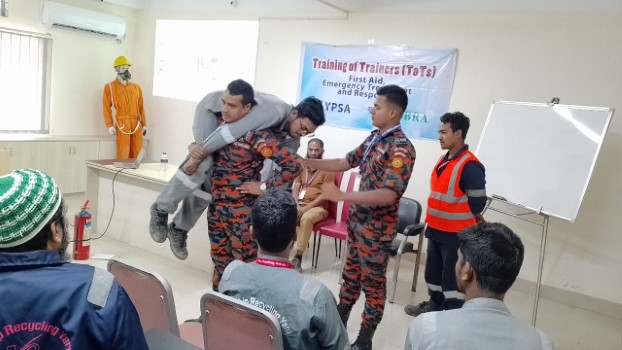 - Rescue Training
Well-equipped training room facility with audiovisual equipment, hands-on training equipment, simulators, and safety gear.
Knowledge sharing sessions with highly qualified instructors.
Job-specific external training as per training matrix plan.
100% basic trained workforce by BSBRA.
key
Installation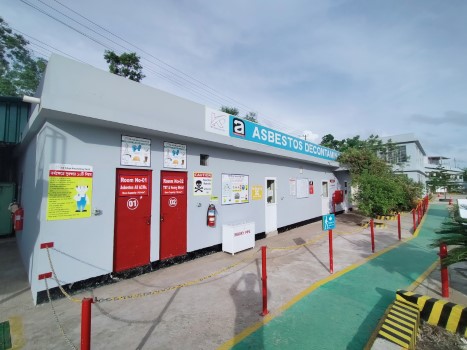 - Asbestos Decontamination Unit
- Barge Mount Crane
- Crawler Crane 150ton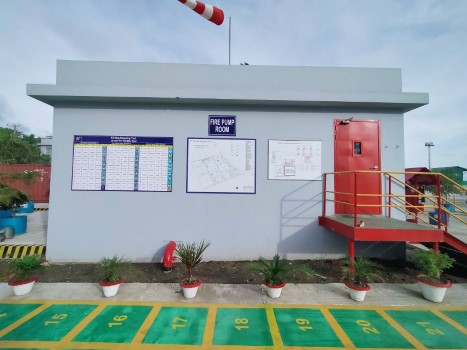 - Fire Pump Room
- Hazardous Materials Storage Room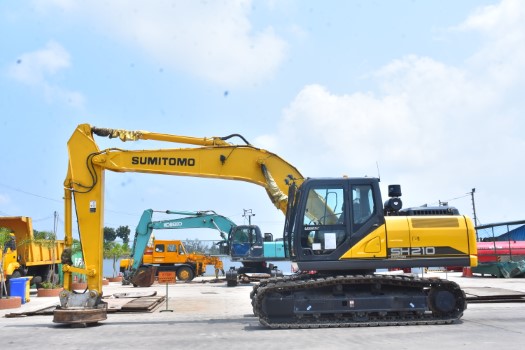 - Heavy Equipment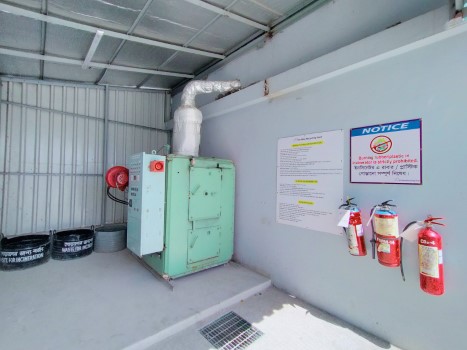 - Incinerator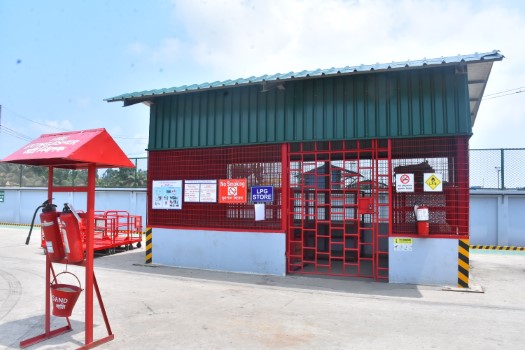 - LPG store
- Oxygen Plant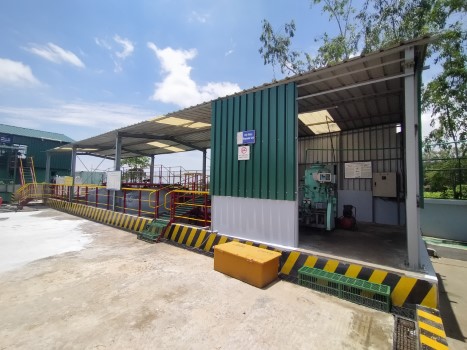 - Oily Water Separator Unit
- Winch
EU compliant Asbestos Decontamination Unit with 5000 NPU.
Two sets of 750 GPM Fire Pump diesel and electrical (FSCD approved) with 60,000 US Gallon water reservoir & 1200 ft Hydraulically calculated fire line.
DoE compliant High-temperature Incinerator with 1100-degree capacity.
Oily Water Separator Unit 5m3 per hour capacity with 130m3 water reservoir.
Special designed shade for Oil drum & Oily Machinery handling.
LPG storage approved by Explosive Department with capacity 150 cylinders.
NDT tested underground oxygen pipeline with approved Header system by competent authority.
18168 sqm fully concreted impermeable floor with a huge calculated rainwater drainage system.
A unique design combination of Jetty and Ramp Shaped with 130-meter wide shoreline.
Four Winches 75-ton capacity, 04 Magnetic lifter 02-ton capacity, Pick & carry, Mobile Crane, Drum Truck, Pay Loader for lifting work.
150 Ton Capacity Crawler Crane for Block lifting.
80 Ton capacity barge-mounted Crane with specially designed & stability tested Barge.
Ship Recycling Process
KR Ship Recycling Yard involves a coordinated set of processes and procedures to ensure the safe and efficient arrival, handling, and recycling of decommissioned vessels. Ship recycling yards play a crucial role in dismantling and disposing of ships in an environmentally responsible manner while also salvaging valuable materials. Here is an overview of the key aspects of Ship Recycling Process:
1
Document Review.
SRP Preparation.
2
Ship Inspections & Clearance.
Receiving landing permission.
HSE Procedure Phase 1.
3
Arrival of Ship @SRF.
HSE procedure 2.
4
Clean up of SRF.
Documentation and Reporting.
7
Clean up of SRF.
Documentation & Reporting.